How much exercise should a dobie pup get?
Now we don't do anything strenuous, like jogging or running, but how long should a typical walk with a 4 month old pup be? I've read that you can slowly over time increase the walks, but sometimes I feel like I'm not walking him enough, or if he's just being a drama queen about being inside the house when it's soooooooo much more fun outside with the blowing leaves and the other dogs and the pedestrians and the mailman and the squirrels, etc etc etc. He gets walked at least 2-3 times a day, about 15 - 20 minutes each (usually a morning walk, noon time walk, and an evening walk -- sometimes I'll take him with me to walk down to the mailbox, or just up and down the street randomly to see neighbors/if kids are walking around outside). It's not a brisk or fast stride, but a normal paced walk.
Anyway, I'm a new dobie parent so I'm pretty neurotic I guess you could say lol. I can tell he's raring to go some days and I feel like he could go on forever if I let him.. but I don't want to overwork him. Or am I just being paranoid?! Lol. I just feel bad when I have to set myself to my work at my desk and he'll huff around and throw himself into his bed like he's so bored, etc. And I do try to keep him mentally stimulated by practicing his training or I'll peek around the corner and he'll come stalk me, we play our games, he just makes me feel so guilty when I have to work on something that does not include him! Lol.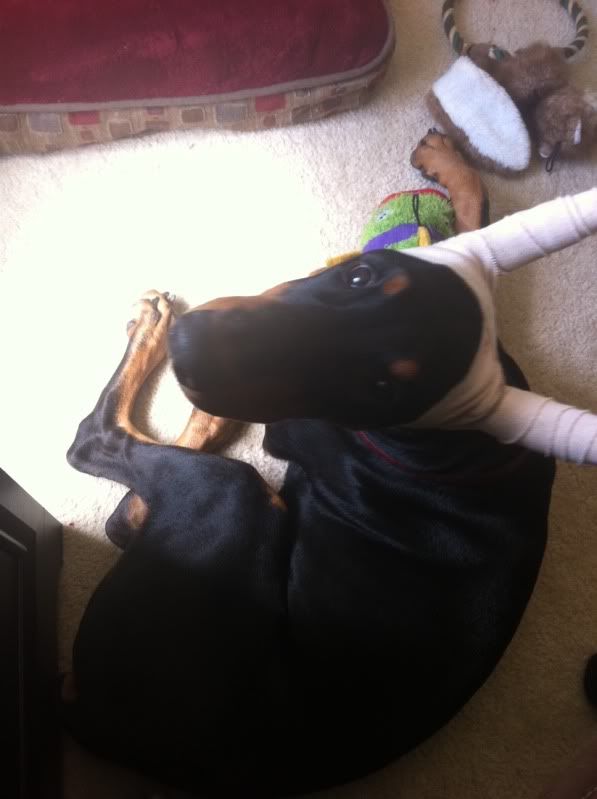 One of his utterly guilt-inducing looks.