Milady (Brinks' new playpal!)
Well, I know I said I was going to wait until Don & I had regular paychecks coming in before I got a playmate for Brinks…  But evidently that just wasn't meant to be.  I'd like to introduce everyone to Milady!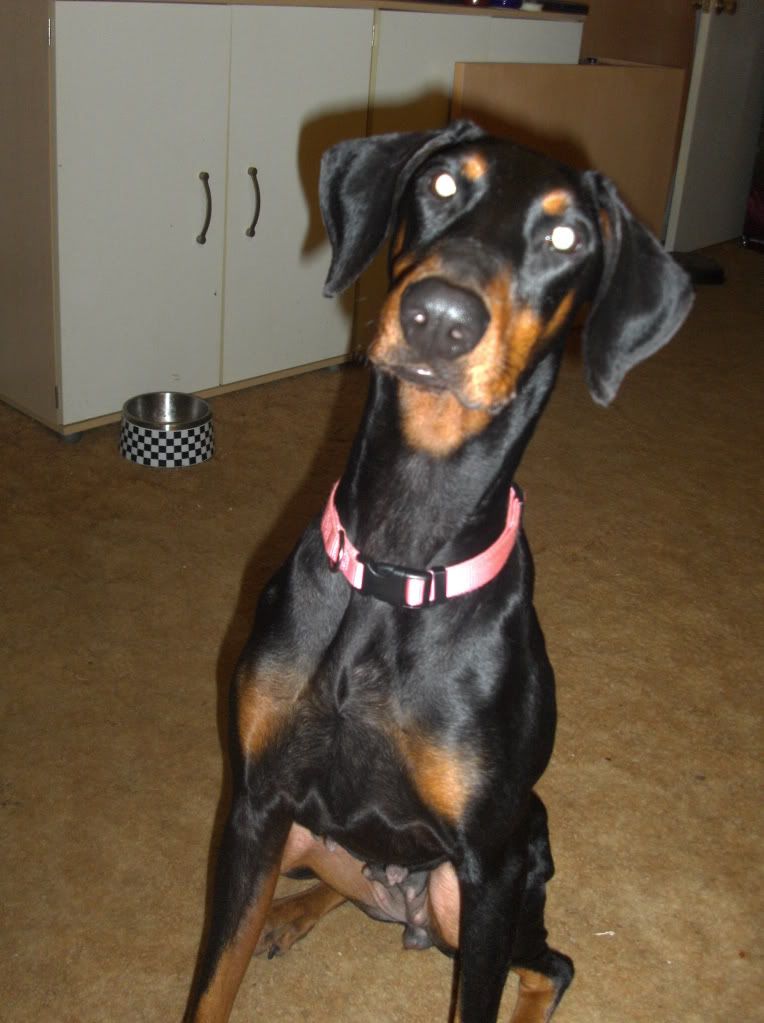 Sorry about the white eyes...   I was in a hurry!
Milady is a rescue, so I don't know much about her.  They said she was about 10 months old, but some paperwork indicated she is probably around a year & a half.  (If she was 10 months I don't think she could have had any shots on 1/29/09 at 4 months.)  Her age doesn't really matter to me other than being able to give the vet some direction. 
MM (Mostly Mutts – the rescue I got her from) told me she had been in at least 4 foster homes in the past month with stays in the kennels at the rescue in-between.  Not because of her but because 1 went on vacation, 1 had a family emergency, etc…  The poor baby was so skittish & confused.  While I was talking to the "foster'er" that brought her in, Don took her lead & sat on the concrete floor petting & talking to her.  She just leaned against him & shook & shivered.  Don is (of course) the practical one, but he looked at me – before I said anything – and said "It's not the best timing but this little girl needs us."  (This could also explain why we've had several foster teenagers over the years!!  Their need outweighs our practical…)
One of my concerns is to get some weight on her!!!  When we got her on Saturday you could see her ribs from 20 feet away & her hip bones could puncture wood!  She's gained a bit since then but not much.  She has had puppies in the past (which would really concern me if she WAS 10 months!) her teats are enlarged but not engorged as they would be if she had whelped in the recent past.  (It's been a long time since I bred Danes so memories from the dim past make me think at least 3 or 4 months ago.)
The night we brought Milady home Brinks was very gentle with her.  Of course he wanted to play (he always wants to play!) but he was very restrained – like he instinctively knew that she didn't have the strength or the stamina for rough-housing.  I was very proud of my boy!  She wanted to play too – did the "play bow" & jumped around with him a few times, but mostly she was exhausted & needed to sleep.
There are other problems (mostly physical- have seen no aggressive tendencies), as there are with most rescues, but I think this is long enough for now…
So here are a couple more photos of Milady & Brinks…
Left to right:  Milady, Don, Brinks

She doesn't even have basic obedience but learned to sit for treats really fast! (Brinks fore, Milady rear)

First night they slept butt to butt - 2nd night was like this (Milady's head on top)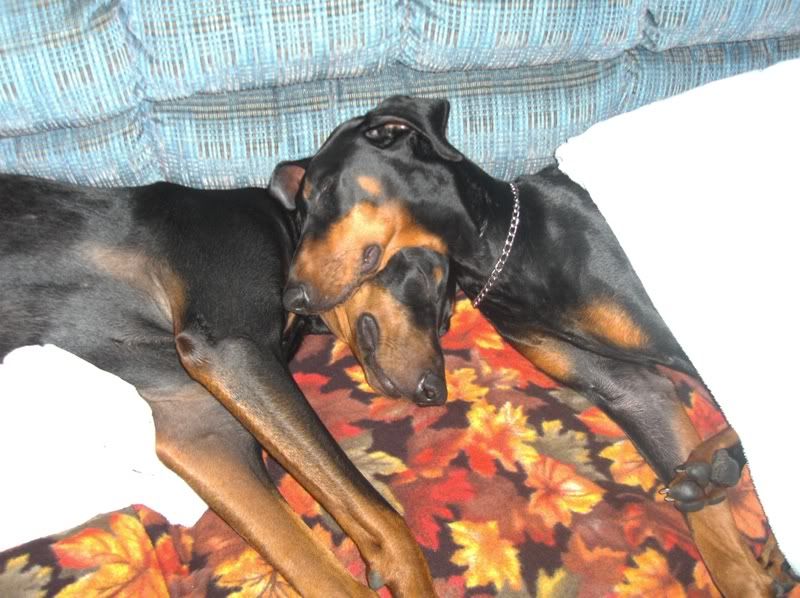 Moved a bit, but still cute!

Amy with the latest in home decor - Doberblankets!!!  Milady's 3rd night with us