Introducing Freyja
I've been posting on this site for a couple of months now.  I thought it was finally time I introduced the goddess, Freyja, to all on the site.
In the summer of 2008 my wife informed me that we were going to dogsit my son's 4 month old pitbull puppy for a month while he went to Florida. I was beside myself. I didn't know my son had a puppy and I sure didn't want to watch it. I had just lost my job due to the economy and my vision loss had reached the point of legal blindness. Since I was home I knew I was going to get stuck as the dogsitter. I really didn't want  to do this.
Five years earlier our previous dog,  Moon (after Warren Moon of the Oilers), a collie mix pound puppy, had died in a tragic accident after 12 years with us. For months I would leave the house to walk to work and look on the front porch for him but no Moon. The children, now teenagers, had wanted another dog but I wasn't ready for the emotional attachment. I still get sad when I walk past his grave in the corner of our property.
So against my wishes my son brought Mary Jane over for us to keep. And sure enough I ended up watching her during the day. But I found it wasn't all that bad. I would put her out during the day but soon found myself bringing her in more and more. By the time the month was up and Wayne returned to get his dog I had become kind of attached to her. My wife and I began talking that it might be time for us to get another dog.
Then the big battle began, what kind of dog to get. My wife wanted a mini dachshund, I wanted a doberman. As a teenager my dad had brought home a doberman and Brutus and I became close. We played, wrestled, I even trained him to do a few tricks. His speed always amazed me, he was so much faster than the collies we had. I lived with Brutus for 5 years before going to college and I knew if we got a dog it was a doberman that I wanted.
But how to convince my wife? I really don't like "runt dogs" as I call them, but she had her heart set on a mini dachshund. She didn't want a big dog.  I was really afraid that I would hurt a small dog by accidently tripping over or stepping on it because I wouldn't see a dog less than 10 inches tall. Karen realized that since I was the one now home all the time that I would be the one taking care of it. I began looking at dobies on the internet and when she saw my sincere interest in them she gave in. The search for a dobie ensued.
Looking at online ads I found an ad for doberman puppies about 60 miles from our home. I called and they were down to 2 males. My heart was broken, I really wanted a female. Females tend to be smaller, a plus for Karen, and I've always heard they tend to bond better with men (don't know how true that is). I wasn't looking for a dog to breed, I just simply wanted a female. The breeder told me that their other female had just had a litter, but they were less than 2 weeks old. We decided to go take a look, knowing we could come home with a male if he was so adorable we couldn't wait. Plus it gave us a chance to scope out the conditions in which they kept their dogs.
When we arrived the next to last male was being sold, so there was only one left and he was a cute black and rust, which I prefer since Brutus was black and rust. But in the 2 week old litter there were several black and rust females, one of which Karen took a liking to. We decided to wait on a female and set an appointment for 2 weeks later to pick out our new puppy.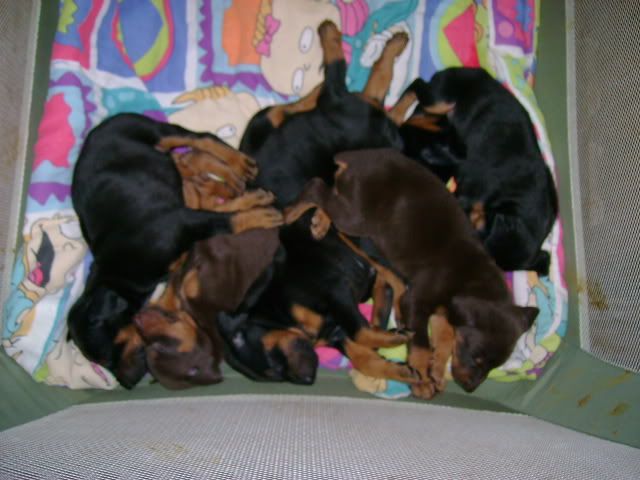 In the meantime I began working on a name. Since the Magnum P.I. dobies were named Zeus and Apollo and I was teaching a western civilization class at the local community college I wanted to stay with the Greek god(dess) theme. Hera was my choice. But when I told my 16 year old daughter Rachel about Hera she had a fit, she didn't like the name.  So I started over.  Finally I came up with Freyja, the Germanic/Nordic goddess of sensuality. Rachel agreed, although not enthusiastically, to Freyja.
When we went to pick our new puppy out Karen again found the one she was taken with 2 weeks earlier. She held it and we asked if she wanted to be Freyja. Rachel had found a more aggressive female that she liked, but knowing a little bit about the nature of dobies, I thought we'd be better off with one a bit calmer. Finally we decided on Karen's puppy and Freyja was marked for us. I told them her name and asked them to call her Freyja. We arranged to pick her up in another 3 weeks.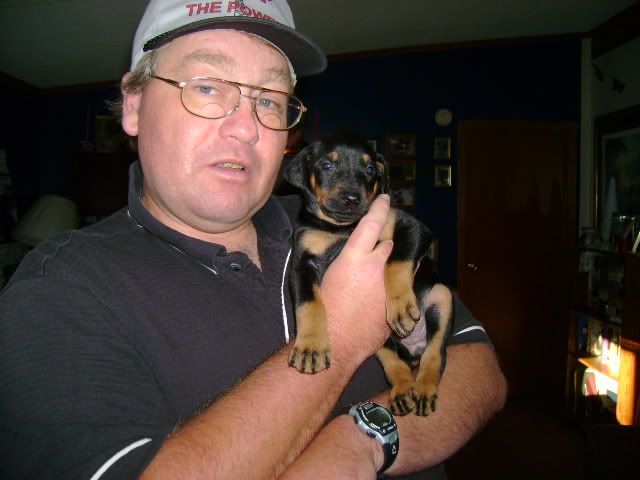 Those were a long 3 weeks, but finally the day arrived and we brought Freyja home. She was so little she couldn't step from the garage into the house. Her bowls dwarfed her. How could this little puppy grow into a big doberman pinscher? Believe me, it didn't take long.
A couple of days later Freyja and I began short walks around the neighborhood for introductions. Because some have the wrong conception of the breed as mean and vicious,  I wanted to make sure all the neighbors met Freyja and knew who she was. No one could possibly think a puppy this adorable was mean or vicious. We started our walks and quickly they became longer and longer. Our walks still remain a part of our lives, and everyone along our 3 mile route knows Freyja.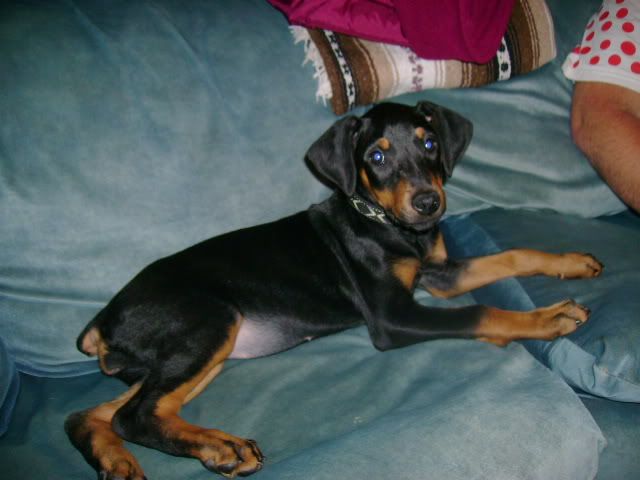 We began training at about 3 months old. We started with sit, then down, stay and (play) dead. I wanted to train her without using food but found she responded very well to treats. I considered training her for obedience trials but after attending a trial I didn't feel it was for me. I want Freyja trained for real life situations, not to parade around in a ring. But at times I still consider taking her to earn her CD title, she knows all the elements very well and yes we use them in everyday situations.
Freyja has truly become a member of the family. Since we take our camper on nearly all our overnight trips Freyja is always with us. At six months old we took her to the beach. There we found out Freyja is a "chick magnet". Everywhere we went ladies from 16 to 60 kept coming up to us wanting to pet her, telling us how beautiful she is. Hardly any men spoke to us. By the end of the beach trip I was ready to rent Freyja to men needing to get conversations started with the fairer gender. Freyja has only spent 3 nights away from me in the last 15 months; when whe had her ears cropped, when Karen brought her home a day early from a radio competition, and when she was "fixed". Whenever I'm not with her I miss her dearly.
After I got Freyja people began asking me if she was going to be my "seeing eye dog". I had actually never thought of that. I began calling guide dog schools to see if they could train her. Each school said I could apply for a dog but they would not take Freyja and train her for me. I even had one school that wanted me to donate her to them, but would not train her for ME. That one I didn't understand. I really don't want another dog, I love Freyja. The more I work with Freyja the more I learn, and while I know I'll never be able to train her to be a full guide dog, there are many things I can teach her to help me. On our walks, which have no sidewalks, she gets me off the road when a car approaches. I am now working with her to stop at curbs, since I have difficulty recognizing curbs when I come to them. She's doing well so far.
But I don't want Freyja and I to be all work. I want us to learn to play flyball. We've been working on retrieving the ball and going over jumps. Freyja also loves to catch a frisbee, she's the first dog I've ever had who would catch one.  We have had a lot of fun in the front yard chasing balls, toys and frisbees while the neighbors watch us play together.
Freyja is on the small side of normal for dobies, 24 inches at the withers and about 60 pounds at 17 months old.  This is great for us since Karen didn't want a big dog. She has the most beautiful face I have ever seen on a dobie. I constantly get comments on how beautiful she is, with some saying that she "looks like one of those show dogs on TV". Tonight Rachel made a comment about how white her teeth are, and they do look intimidating. To me, Freyja does her goddess namesake proud.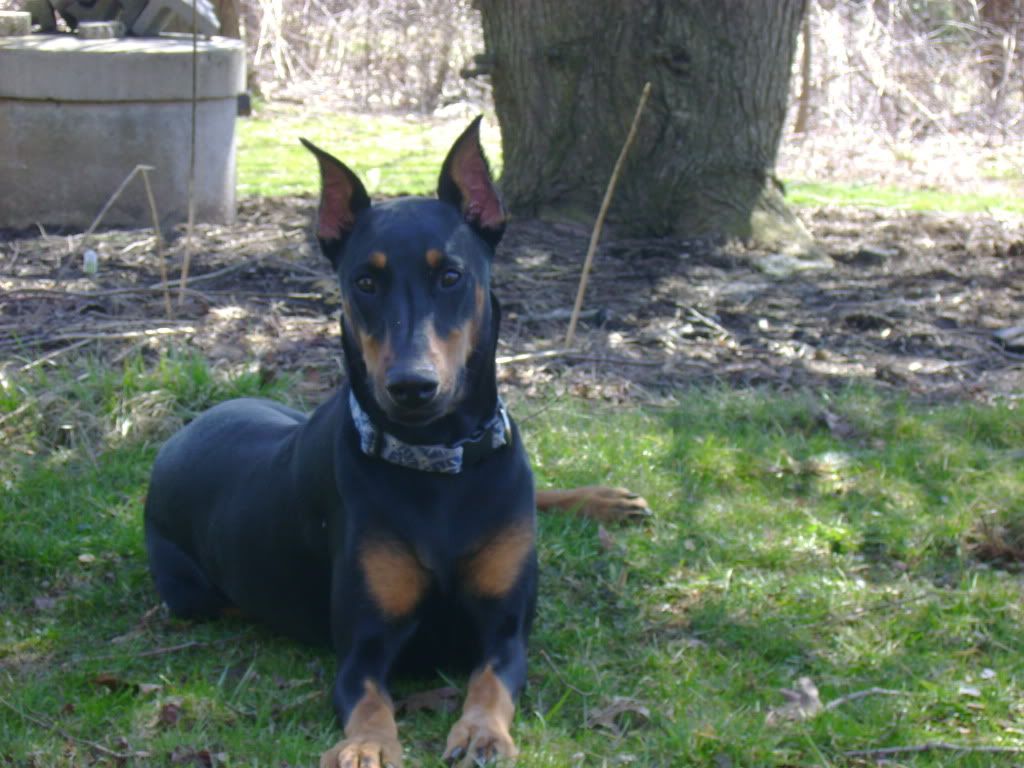 But perhaps Freyja's most important aspect is how loving she is. I have never had a dog as loving. During our dog breed debate Karen said she wanted a lap dog and she sure has one with Freyja. Over the past 15 months I have gotten used to dog kisses. Most every morning I wake up to her in the bed, snuggled up against me, having taken over Karen's spot. And with all this loving I have no doubt that Freyja would protect Rachel, Karen and I from any and all evildoers. No she's not perfect, but I'm told that I'm not either (I'm still not convinced). I really do love this animal, more than any dog I've ever had, and I know that she loves me.