First Time Dobe Owner *UPDATE NEW PICS!*
Hi all,
  My name is Jessica, and I recieved my first Doberman puppy on mother's day from my wonderful parents  :)  Her name is Ivy, and she's my super pooper ;D. We got her rather young (about 4 weeks) from not the greatest situation (aka, we basically saved her). So she was bottle fed for a while. But she's thrived, and about tripled in size since we got her. She is my pride and joy, and I'm pretty sure already that I probably won't ever own another breed. She's got a date at the end of the month to get her ears done, I'm kinda nervous about that, she seems so little to be having her ears done! But she'll be about 11 weeks by that time, so it will be ok. The "breeders" told us they were in the process of getting papers, but realistically, I doubt I'll ever get them. But that's not a huge concern as she's not going to be shown or bred. But anyways, I just wanted to introduce myself and her, and say that this is a very cool forum, and I look forward to being a part of it!
   Jessica and Ivy.
These pics are from when she first came home. I'll try to get some more recent ones up ASAP.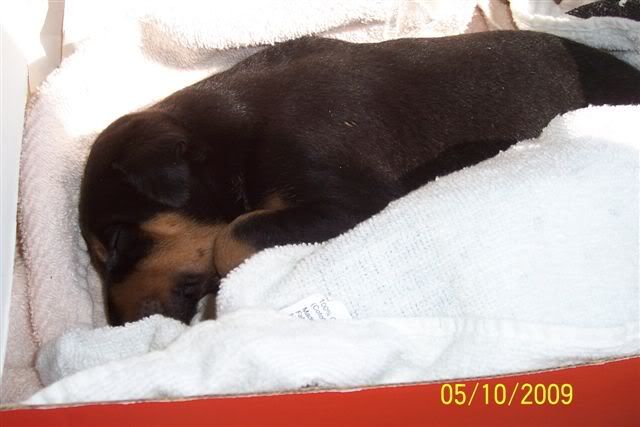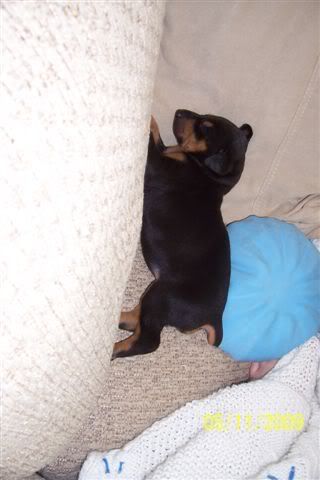 Ok, so I finally got my pictures uploaded! Ivy had her ears done last Tuesday, and will go Friday to get her stitches out and have her ears re-posted and wrapped. She's been very good about leaving them alone, just scratching them every once in a while. I think they turned out beautifully, I can't believe how grown up they make her look. I believe she is in the viscinity of 20-23 pounds, and stands 15 inches at the shoulder at 12 weeks. Is there a way to guestimate height? I believe she's going to be a little taller than the standard. But anyways, she looks great, and I would highly recommend the Kokomo Animal Hospital and Dr Mark Stanforth of Kokomo Indiana for a beautiful ear crop.