Update with pics!
It has been quite some time since I have found myself with a few moments to share and post pics! Life has been so crazy busy with finalizing the sale of one of our websites/businesses and trying to continue to create products to sell for our own business! We have definitely been putting in overtime the past few weeks (along with getting ready for winter EW).
Bandit has been growing so fast! He is now 14 weeks old and a whopping 32.5 lbs!!!
He has been going through urinary issues and has been on 2 different antibiotics and special wet food added to his diet... none of which has worked so far. We are taking him in on Tuesday to get his urine taken out with a needle (yikes) so we can get a culture done and see what exactly is going on. The vet says there are a lot of crystals, his urine is concentrated, and there is a very high white blood cell count. Thankfully he isn't peeing in the house or anything - I just really want to clear this issue up!
Bandit had his ears cropped on November 7th, so 2 weeks ago from today. His ears are almost completely healed now and looking lovely! He is driving me nuts with taking the posts out of his ears though! The posts that his ear crop vet put in were hideous and lasted about 3 days until we managed to get them loose enough for me to need to take them off. The tape that was used ripped a ton of hair off of his ears - it was horrible and I NEVER want to have to do anything like that again. We tried using medipore tape which isn't sticky enough, and are now using J&J coach tape, which still isn't quite sticky enough - I just ordered some Zonas tape from Amazon which should come in soon!
Bandit has been in school for a few weeks now and we love it! The place that we are going is absolutely fantastic and they offer several different types of classes that Bandit can continue on with in the future! We are learning so much and he is doing so well! There is a little lab puppy that sits next to us that is a week older than Bandit, and a lot smaller it seems! There is also a 6 month old German Shepherd, 2 lab mixes, and TWO OTHER DOBERMANS that started just last week! We were sooooooo excited to walk into class and see a 1 yr old huge doberman boy sitting in the room - his name is Arrow and he is so big and handsome (we can not wait for Bandit to look like that!). Our friends that fix our 4 wheelers, dirtbikes, and motorycles are the owners of the other doberman that started class too - he is a 6 month old Red named Baron. We were so excited that the doberman population at school tripled :)
Ok so now what everyone really wants... PICS! :)
Playing with dad at anout 10 wks
He loves to dig! 10 wks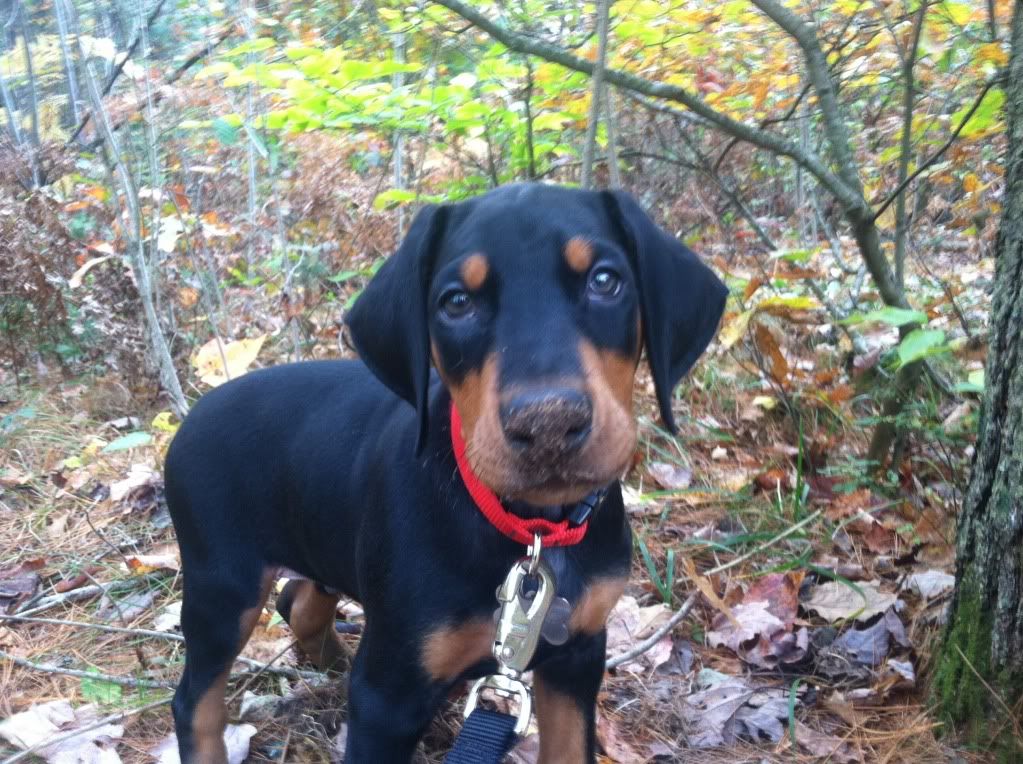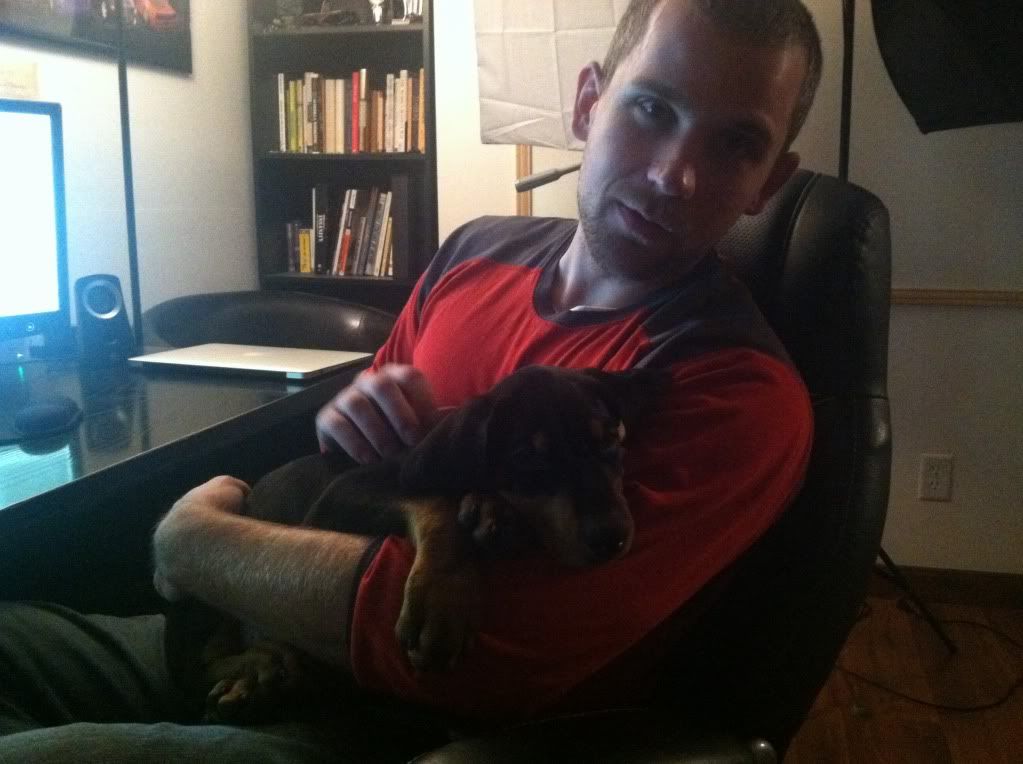 I couldn't help but let him nap in the bed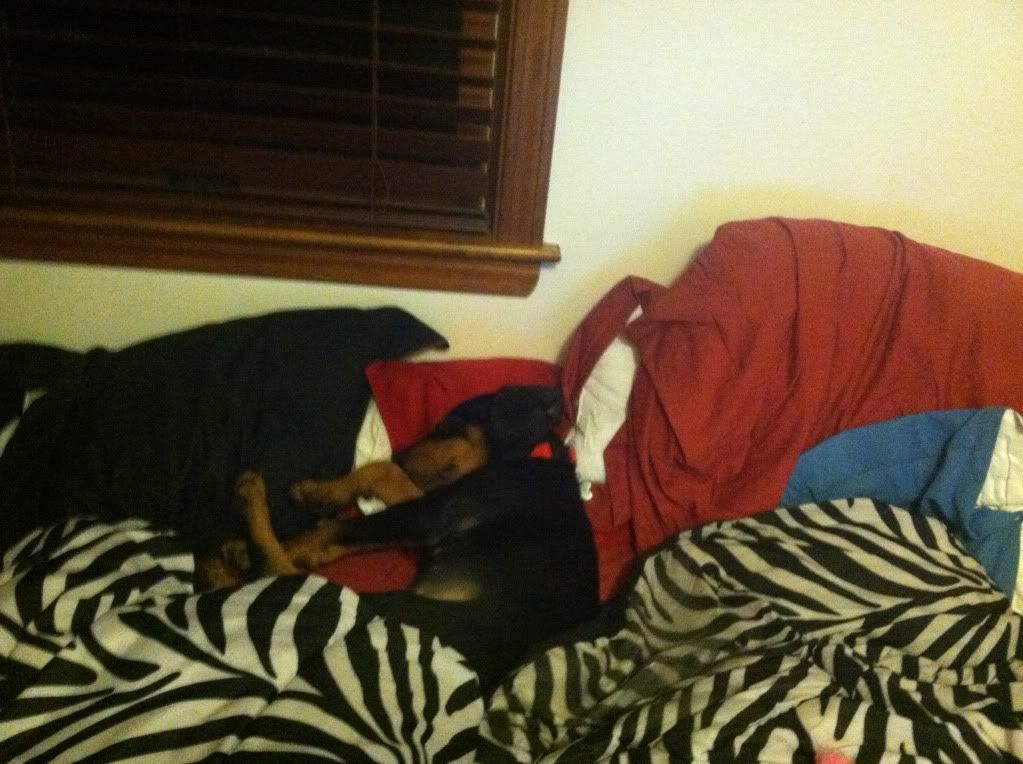 He looks so tiny next to the chair! What a little baby!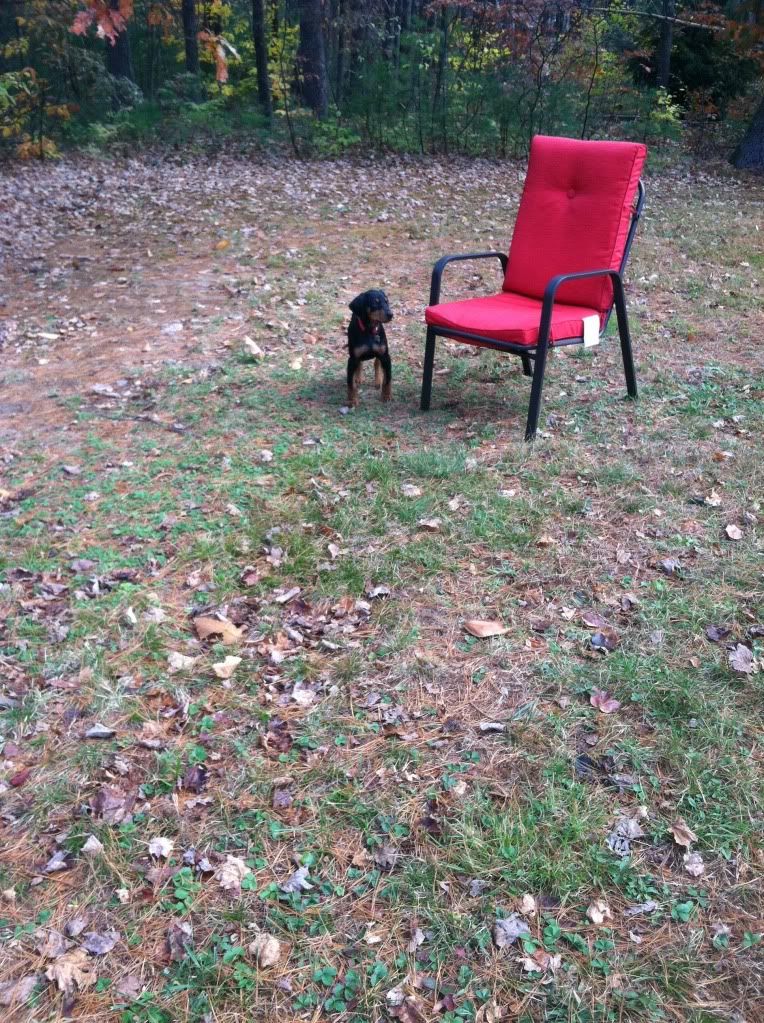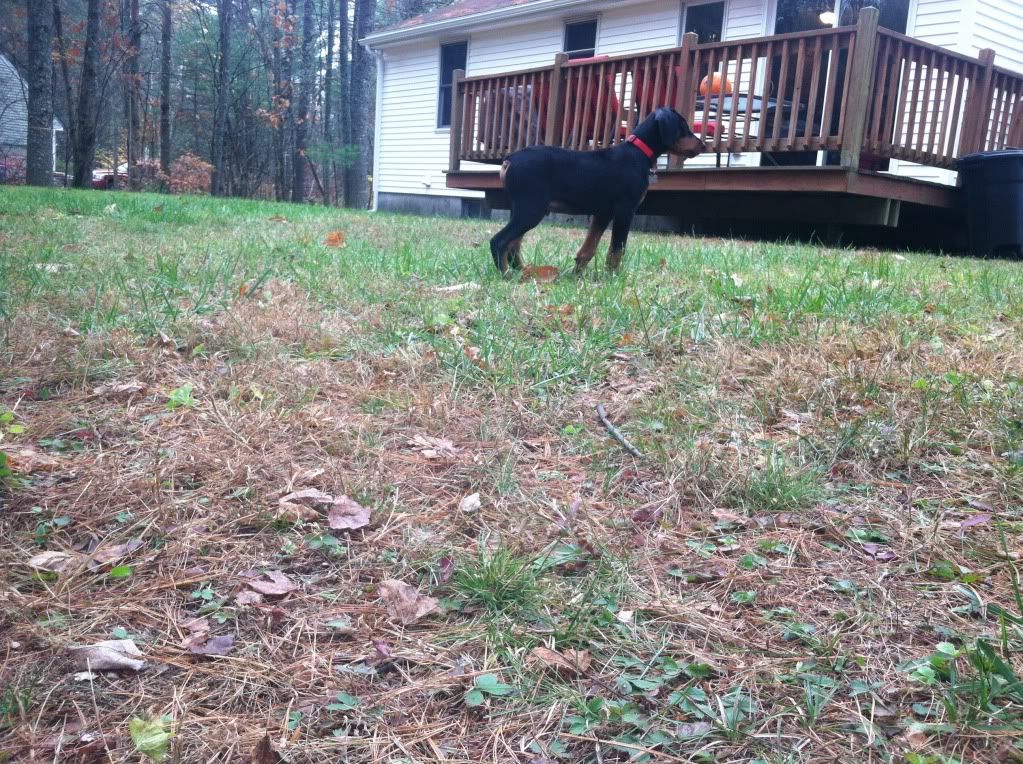 He looks like such a chunk here LOL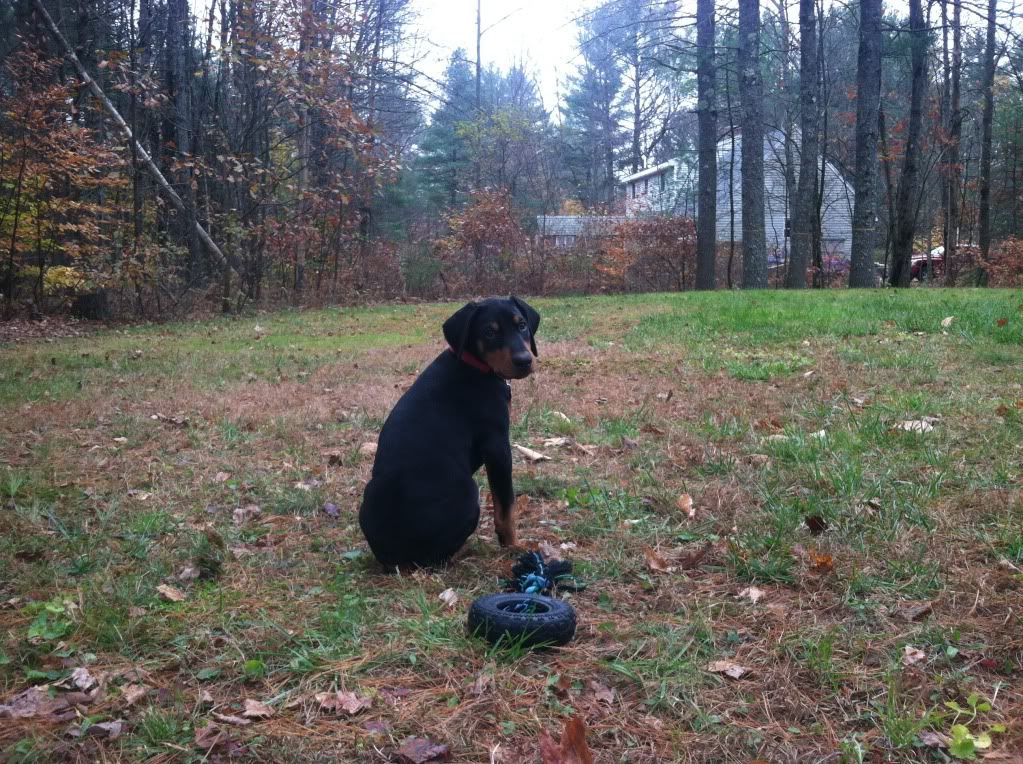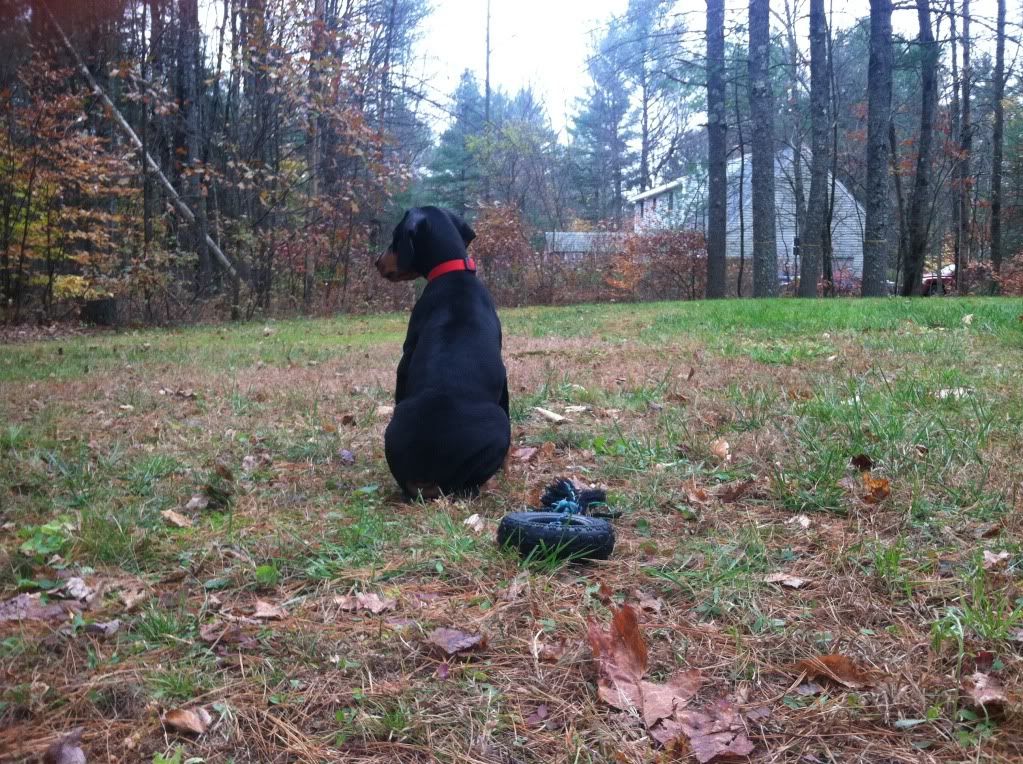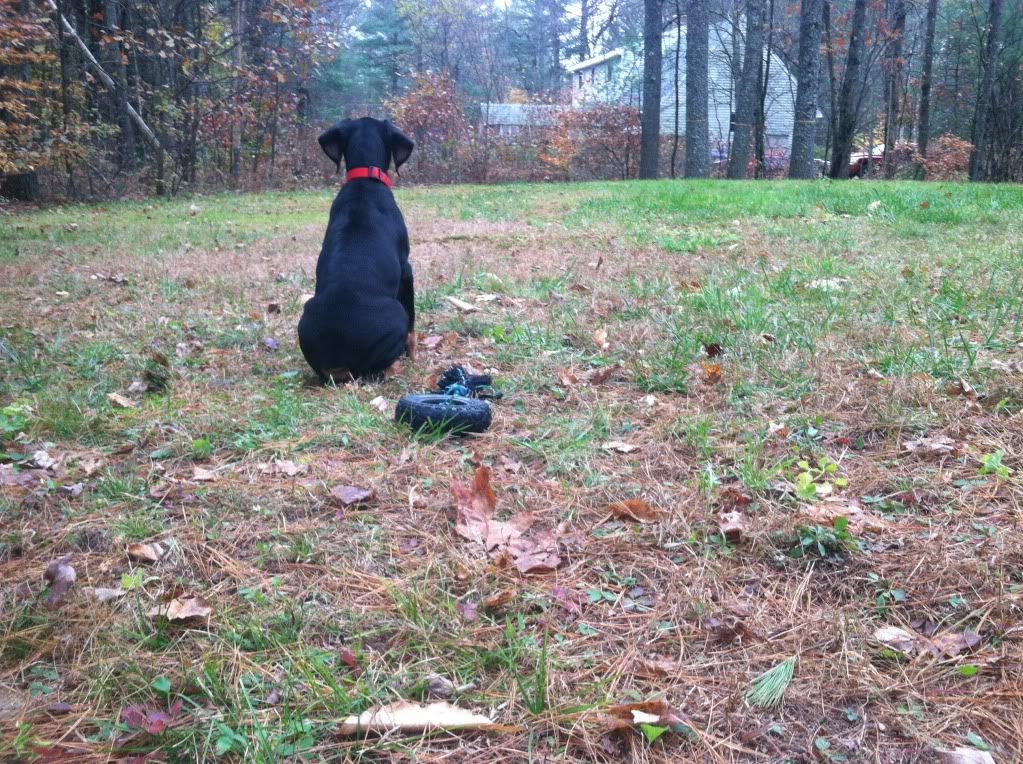 Almost 12 weeks old, this is when I was dropping him off to get his ears done!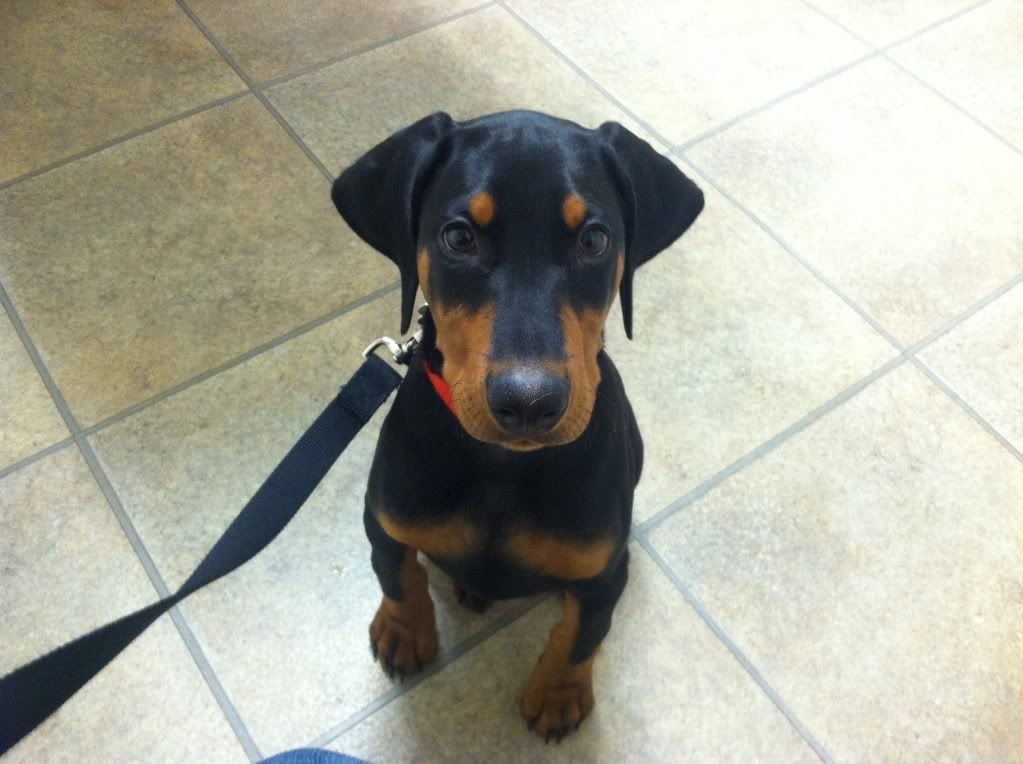 When I picked him up - he was soooo out of it!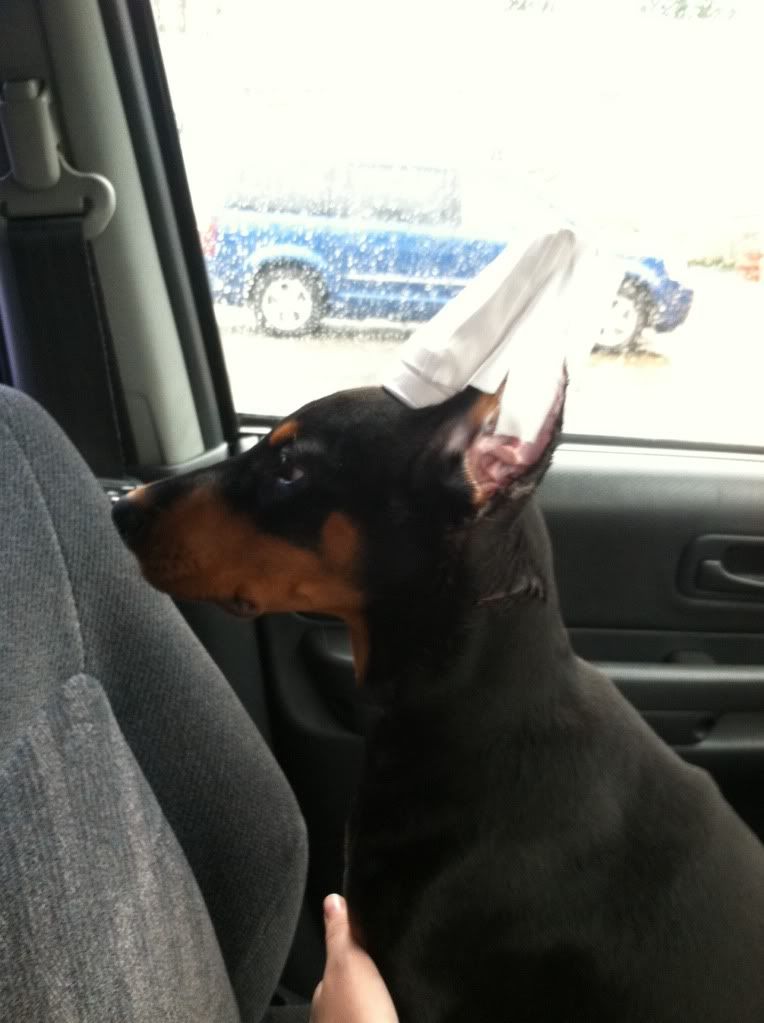 He looks so lost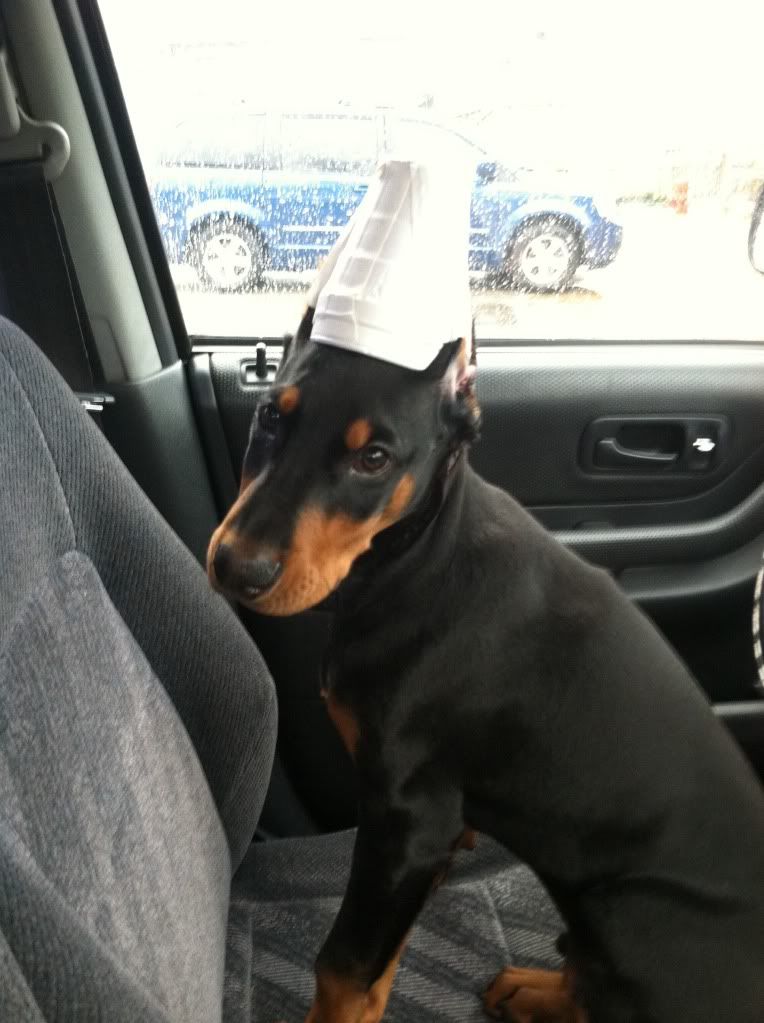 Vicious trying to chew his way out... yes that is a makeshift cardboard cage divider because I was too dumb to buy a cage with a divider lol - it works though!
Close up of his ear 2 days after surgery... They healed very nicely
His sweet baby nose!! Does anyone else have a dog that has brown on its nose like this? I don't think it had any brown on it when we got him and it is becoming more and more distinct! Sooooo weird!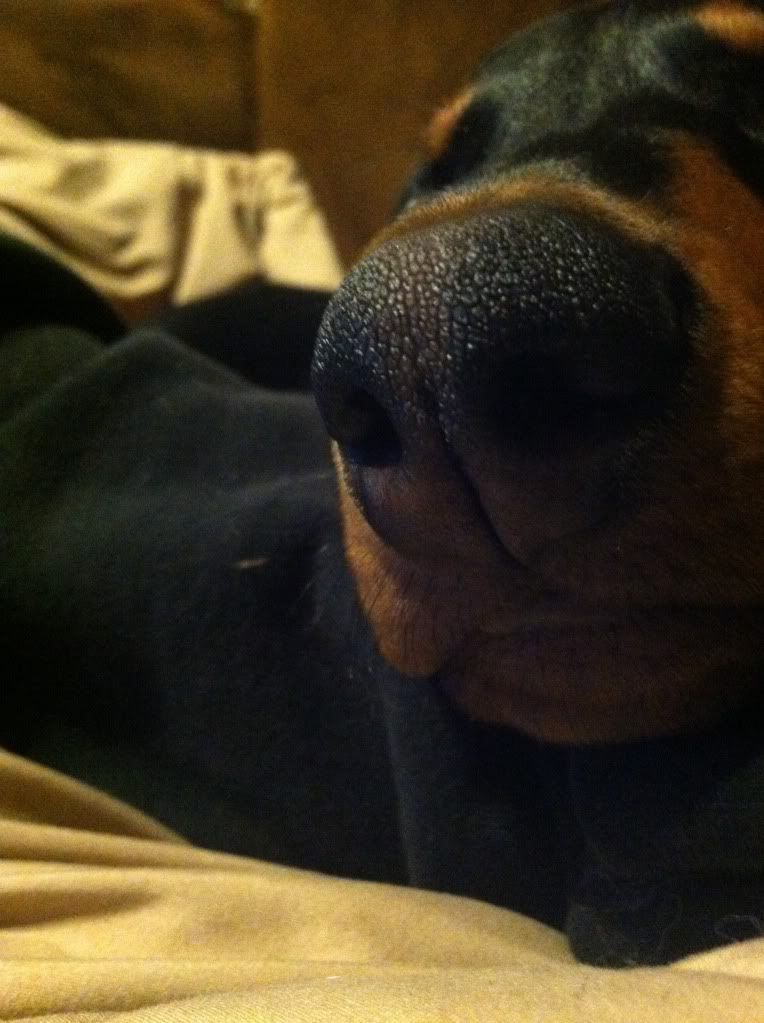 Silly sleeping
Sitting waiting for a treat after we took the cup off of his head(it was getting stinky)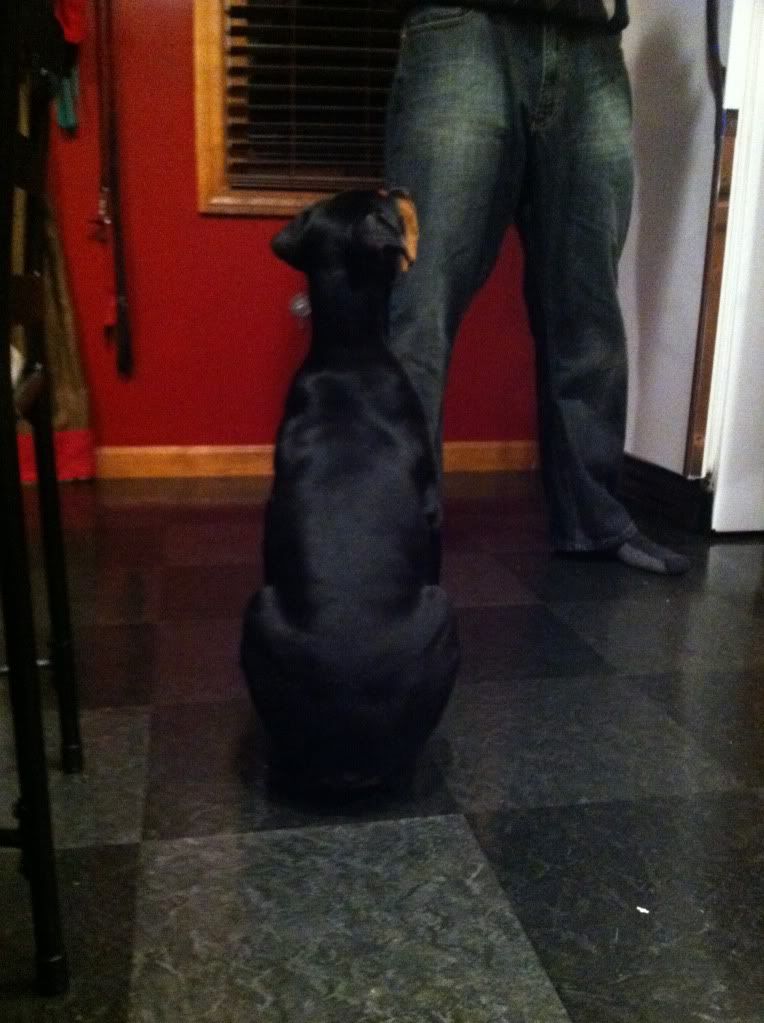 The edges of the ear after we took the cup off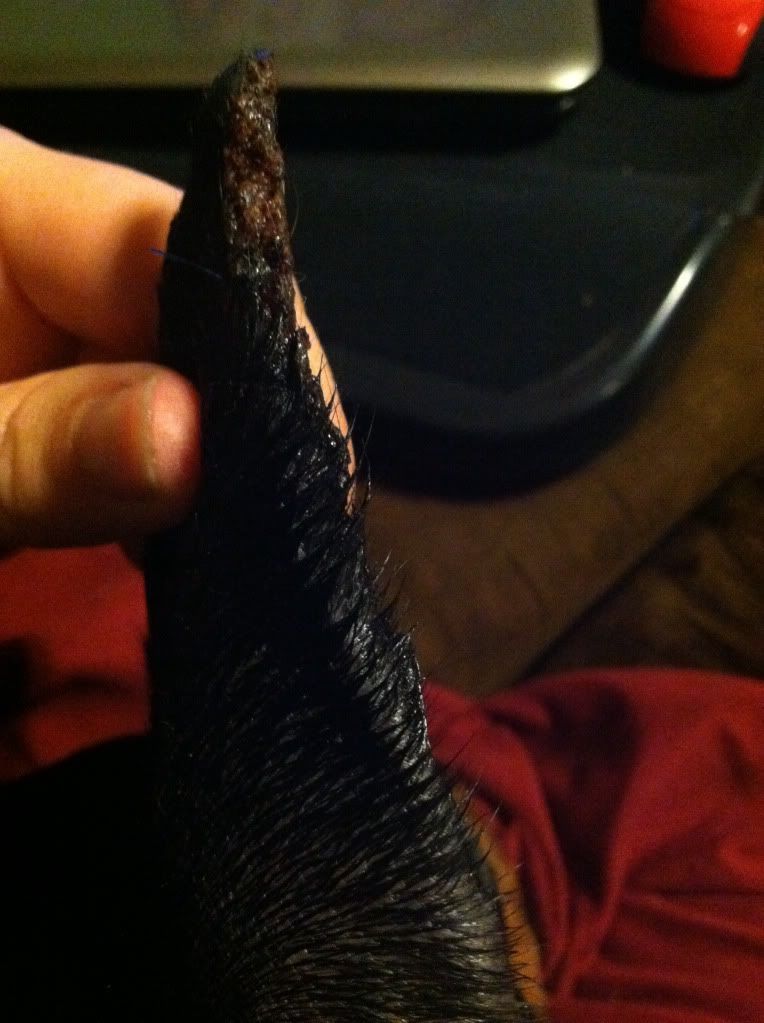 Trying to climb on the couch - this is the posting that the vet did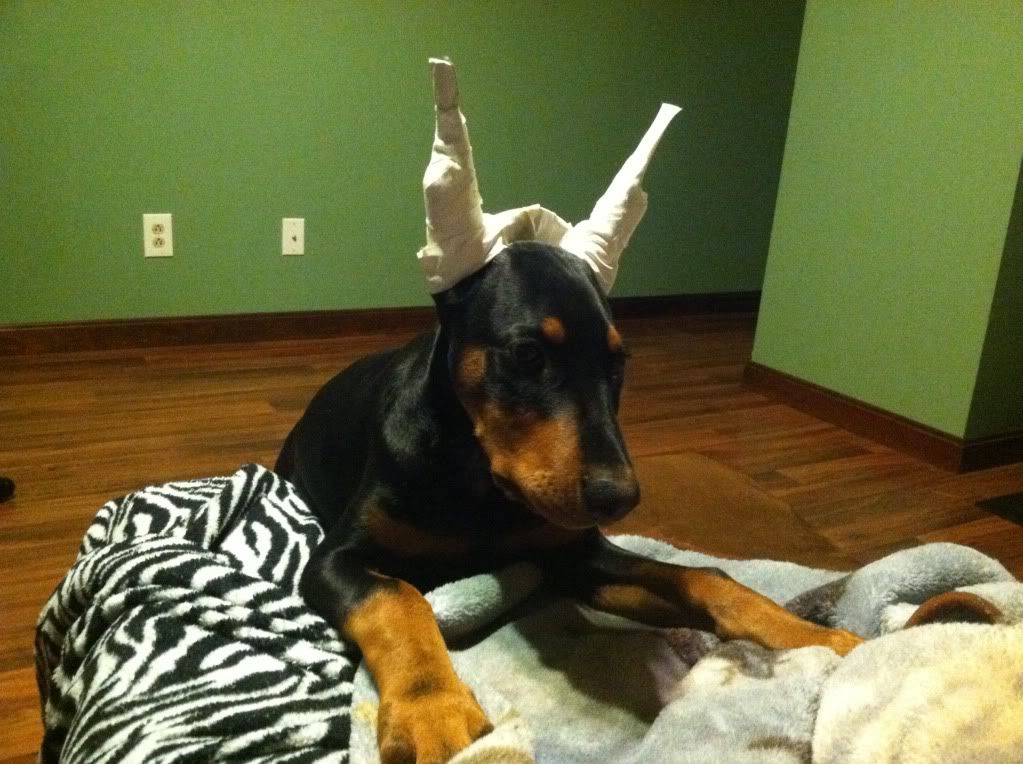 Sleeping with me while I work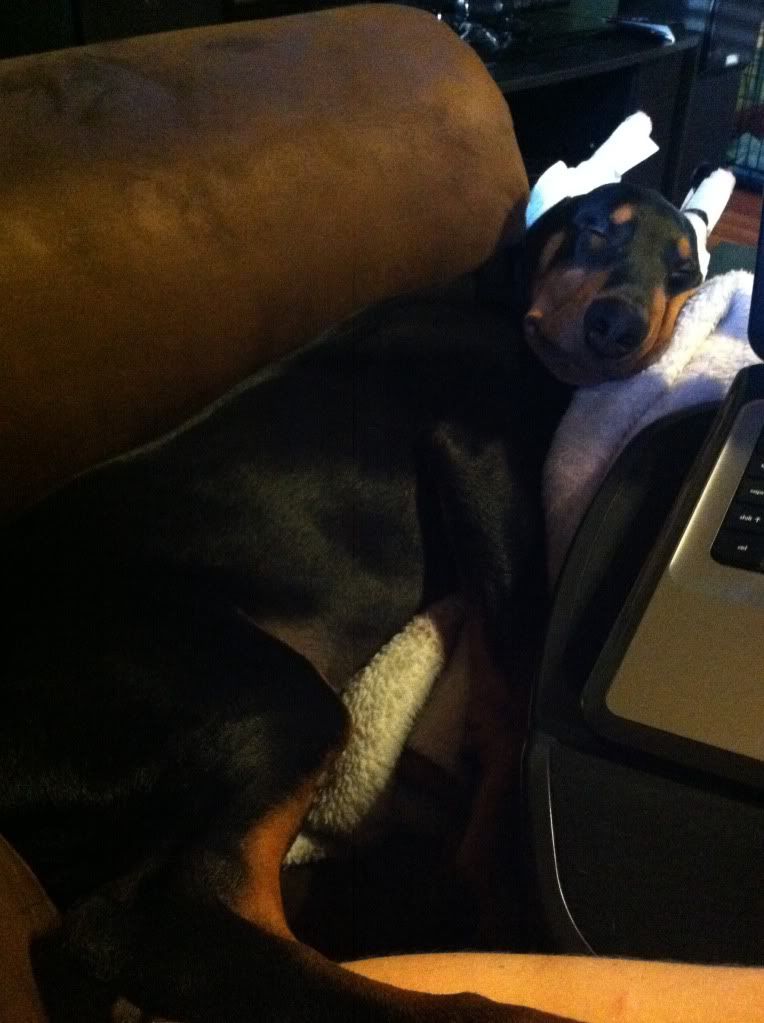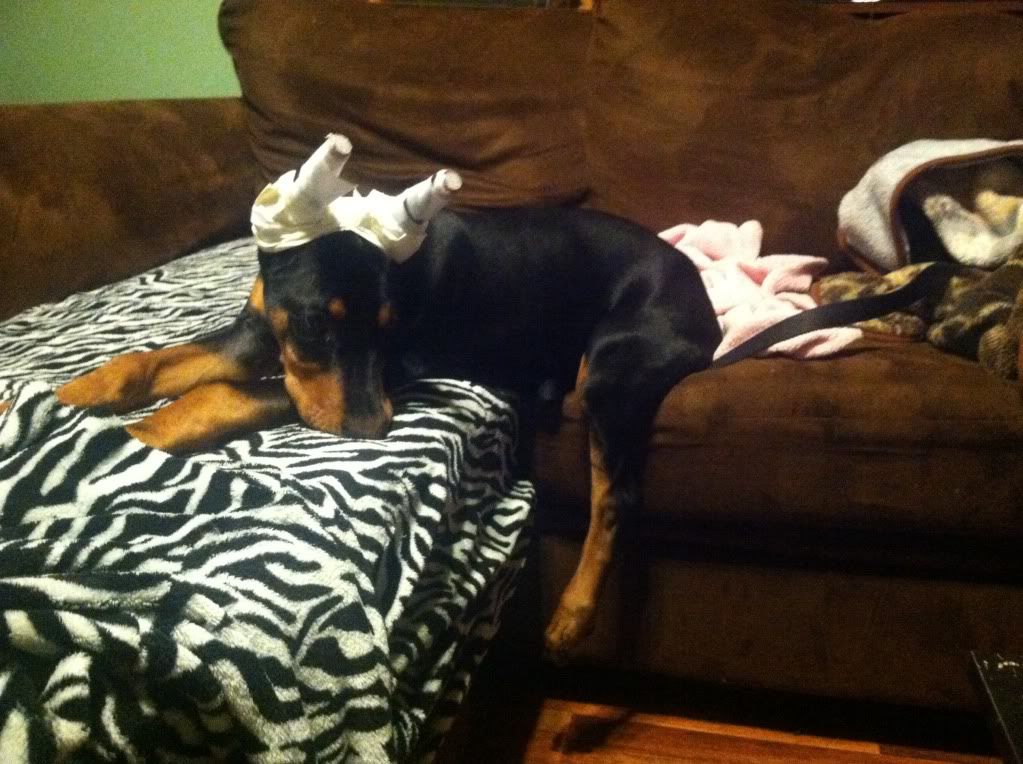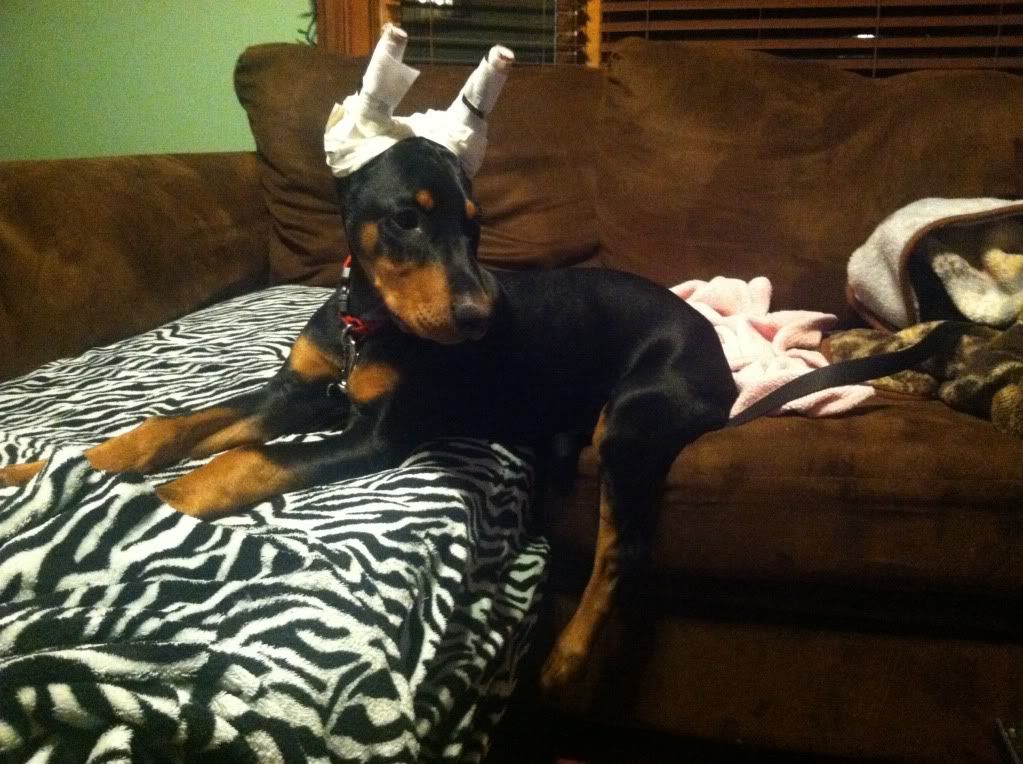 5 days of posting while his ears were airing out for a few minutes (don't worry I posted them right back up!)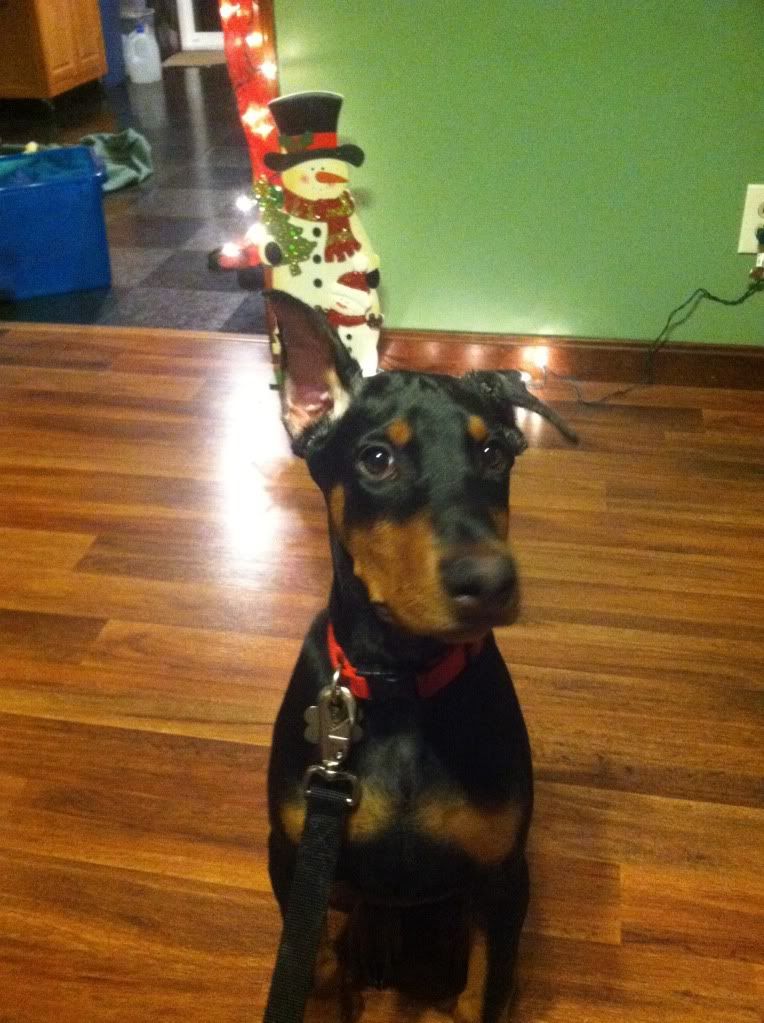 Handsome boy and his sister Foxie who wants to be in every picture