saying goodbye is never easy RIP my little Boo. warning photo heavy
We had to say goodbye to my sweet little Boo girl last week. She would have been 12 this week. Today was a sad day as I picked her ashes up and brought her home in a little wooden brown box.
She was the sweetest funniest little girl and will be terribly missed. I've been comforting myself with her photos and remembering funny and special stories about her. I'd like to share a few photos and one of my special memories of her.
Im proud to say that my daughter Stephanie put all of Boo's titles on her which include a RN, RA, RE, NAP,JV-N, CD and a CGC and many many junior wins in both AKC and 4H showmanship. This didnt happen without incident, embrassment, pride, love and dedication. Those days brings back many special memories of Boos antics in and out of the ring and our traveling adventures.
Boo at 2 years old in her prime.
Boo in her senior years helping her junior handler Stephanie earn Best Junior handler at the Puget sound Doberman Pincher specialty show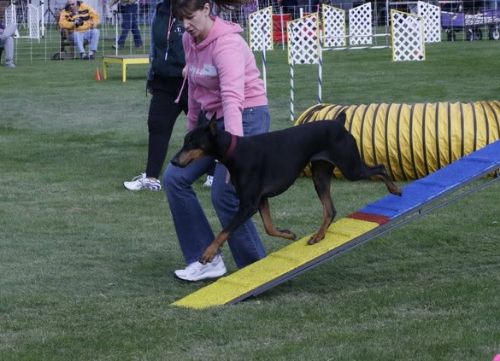 Boo at 10 in an agility trial her favorite thing to do. Wish we had started this when she was much younger. She would have been a super star.
enjoying a good romp in the snow with her grandson at age 10. If looks could kill on this one Boo and Romeo made quite the team in the woods. She had energy that never quit and loved her runs in the woods. The 2 of them were forever more competing. Im sure Romeo will also miss his running partner.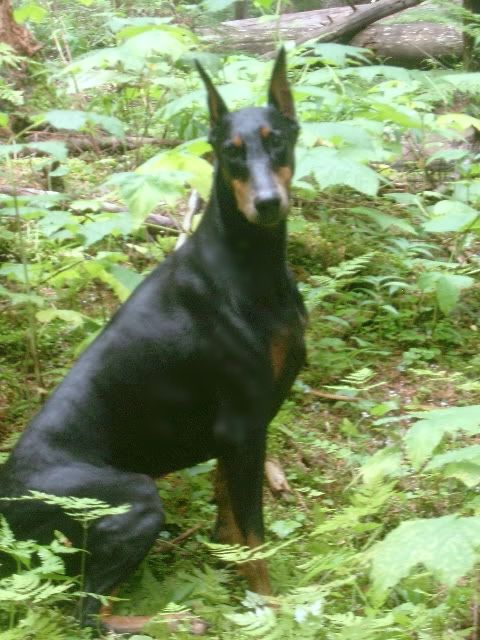 Love you Baby Boo!