Meet Ryley Jorja!
Hey Forum! RJ and i are new here so i thoghut i'd post a little something about us :)
My name is Sam and for as long as i can remember, i have loved the Dobermann (Sorry Americans - i am British! lol). When i was growin up, the closet thing i got to one was a stuffed toy. Then to cut a long story short, for my 18th birthday present, my family decided i should finally own one. I think they were fed up with me going on and on about wanting one for over a decade so they did lots of research, checked out breeders, negotiated a sale, reserved a puppy
and then on October 17th 2003, i brought home my Dobermann puppy.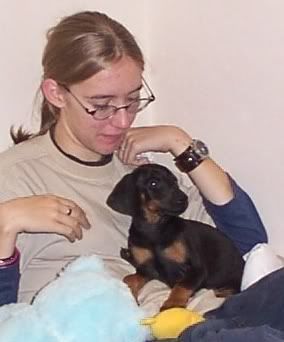 I'd already decided what to name her - Ryley Jorja. I liked both names and couldnt pick just one, so i gave her both and she is affectionately known as RJ. Now i'd always had male dogs before and was so unprepared for a bitch, let me tell you! Especially one as highly energetic, intelligent and challenging as a Dobermann! lol
Coming into a house with no central heating, in winter, we immediately noticed that RJ got cold very quickly. She would sit and shiver, or snuggle up to our cats for warmth. Then one day we hit upon the idea of baby clothes - and voila! It's not the highest of fashion by any means but it got her through the cold :)
Having not had a puppy for many years, i was unprepared for a Dobermann. Everything you research and look up BEFORE getting one goes straight out the window. lol. Luckily, RJ was never a chewer so my furniture stayed pretty much in tact. That i didn't have to worry about. It was her high energy and tormenting behaviours that we needed to address first. She would torment our other dogs constantly, and we hoped they would teach her manners, but that didn't work out to plan lol

The first year was a breeze, and she grew into her gangly puppy phase, and had become my heart-dog, my best friend and my fiercest companion.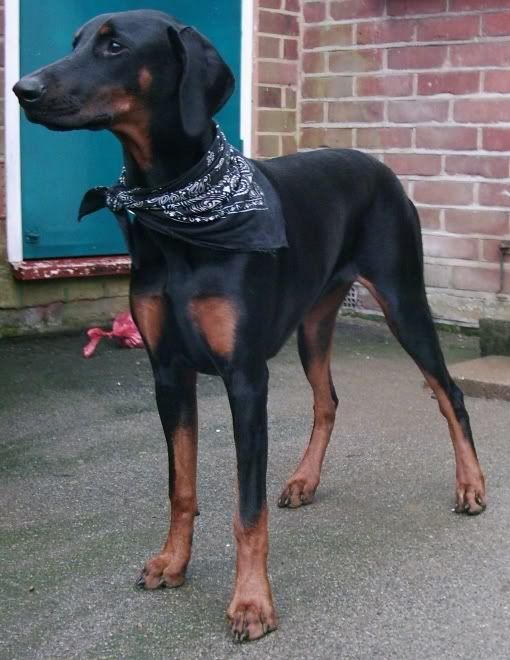 Then, just after one year of ownership, at Christmas time, tragedy struck my poor baby. The tiniest scratch to her paw pad resulted in a secondary infection that quickly spread up her leg. My vet diagnosed a necrotizing fasciitis and was going to treat it with aggressive antibiotics over the next 24 hours. As i stood in his room, crying my eyes out and clutching my dog for all i had, he told me if it didn't show signs of improvement tomorrow, RJ would lose her leg. :( The next day, there was some improvment and with my blessing, he wanted to try and save the leg - which we did, to the tune for £2500 and nearly two years of intensive treatment (including 7 months of daily iodine scrubs of the wound) >.<
Today you would never know albeit for a few scars.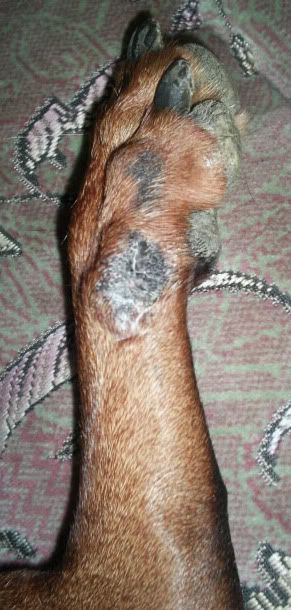 However, my perfectly trained and obedient Dobermann suddenly became withdrawn and aggressive. She would constantly be on alert, never relaxing or letting her guard down. Other dogs became an instant threat and she would rather lunge and attack than wait to see how they would react to her. It didn't stop there. Buses, cars, motorbikes, children playing, old people, young people - EVERYTHING became something to attack. I have studied animal behaviour for many years so i knew straight away all her aggression was fear based - but many training establishments asked us to leave. One even asked us never to call them again. All i wanted was for someone to help my dog be herself again, to get over her trauma, but no one did. I did it all alone, and have done for most of her post-traumatic experience life. It's been a slow road, but she is so much more relaxed on walks now and rather than feeling dread at walkies time, i am enjoying my dog again :)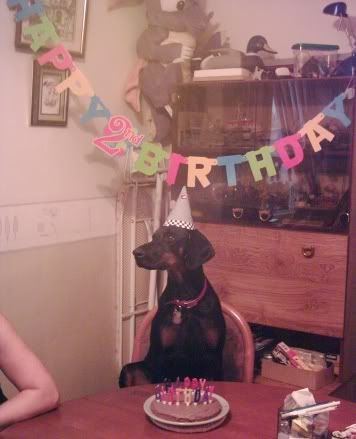 Birthdays (Aug 25th btw :p) have come and gone, and RJ still remains. Most people i know would have given up on her behavioural problems, but then what? No one helps her and she gets pushed around for the rest of her life? no thanks. I adopted this dog for her entire life, for better or for worse, and she is how she is. And i love her for it every single day. I have tattoos to commemorate her - one of her silohuette on my wrist and one based on my favourite ever Dobermann Photograph on my calf. Even after RJ is gone, i will still have my memories forever on my skin.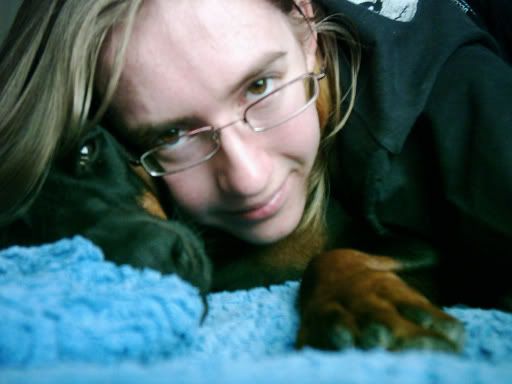 We are the best of friends. I can't even describe the feeling of losing her. It would crush me. There will never be another like RJ, that's for sure. People always say to me, "Why a Dobermann? They all look the same" but those people don't know Dobermann's like we do. They have thie little quirks and habits. RJ likes her neck scratched and she likes to sit in the front footwell of the car. She likes to play with empty plastic bottles by chasing them around the patio like a big ol' 7 year old puppy. She loves to watch my chinchillas and ferrets through their cages. She'll lay down in front of my cat when he is washing himself and poke her head under his chin so he washes her face too. She has a teddy bear that she sucks until she falls asleep and likes to sleep on her back with everything hanging out lol
I may have spoilt her a little over the years to the magical tune of over 40 different collars and bandanas, a fleece jumper and even suade dog beds, but she is my best friend and she gives me so much more in return. I can have the worst day in the world and i come home to this makes it all better :)
Sam & RJ